Support growing for harbour protest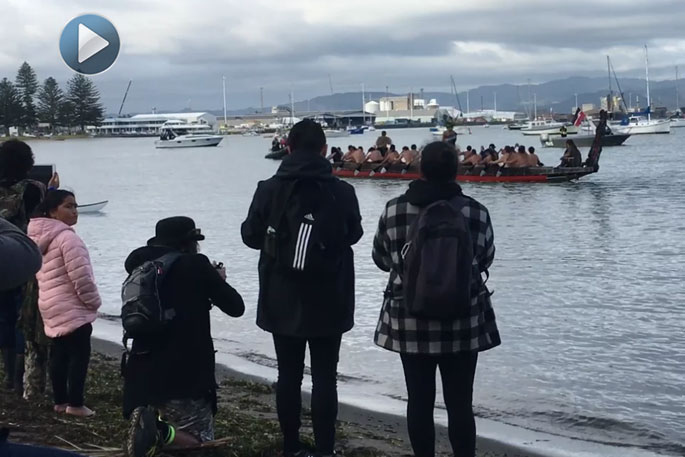 Click the image above to watch the video
Hauraki are not Tauranga Moana – this is the message from Ngati Ranginui as further protest action gets underway in Mount Maunganui.
Tauranga iwi Ngai Te Rangi are protesting a treaty negotiation settlement which they say will give the Hauraki Collective of iwi and hapu rights to Tauranga Moana.
In a statement released ahead of today's protest action, Ngati Ranginui Settlement Trust chairperson Te Pio Kawe says Ngati Ranginui Settlement Trust were unaware of the protest action taken by Ngai Te Rangi on Thursday, "although both Iwi agree that there is a no evidence to support the Crown's view that Hauraki should have the same interests or rights in Tauranga Moana as Ngati Ranginui, Ngai Te Rangi and Ngati Pukenga".
"Hauraki are not Tauranga Moana," says Te Pio.
The Settlement Trust says while they were not able to officially play a role in organising the action, they are pleased to see their waka Takitimu and so many Ngati Ranginui people involved.

Ngati Ranginui Settlement Trust chairperson Te Pio Kawe.
"Our, tamariki, Rangatahi, Pakeke and Kaumatua were passionately supporting the kaupapa, both in person and online via Facebook."
Te Pio says the Settlement Trust believe local ratepayers, residents, territorial authorities, local businesses and the wider community, should be supporting Tauranga Moana iwi, Ngati Ranginui and Ngai Te Rangi.
"The potential intrusion of Hauraki Iwi into Tauranga Moana will forever change the cultural landscape and cultural identity – we cannot and should not have non-ratepayers from outside the district dictating to local government, businesses and local residents."
Te Pio says both iwi have been working tirelessly over the past several months, to prevent the Crown making the decision to allow an external tribe to have a say over the direction and management of local resources.
It's understood that today's action stemmed from advice that a date had been set by the Crown to sign a Treaty Settlement with Hauraki that recognises their claim in Tauranga Moana.
"Representatives of the Crown have claimed this is not the case and no such date for signing has been set. However, we are mindful that it would not be the first time that the Crown have told us one thing and done another," says Te Pio.
Northland coastal iwi Ngati Wai have also come out in support of the protest action taken by the two Tauranga Moana iwi and posted their criticism of the Crown handling of the Hauraki claim, on their Facebook page.
They join Auckland based iwi Ngati Whatua, who have previously also publicly stated their discontent with the Crown's handling of the Hauraki claim.
More on SunLive...