Life, lungs and family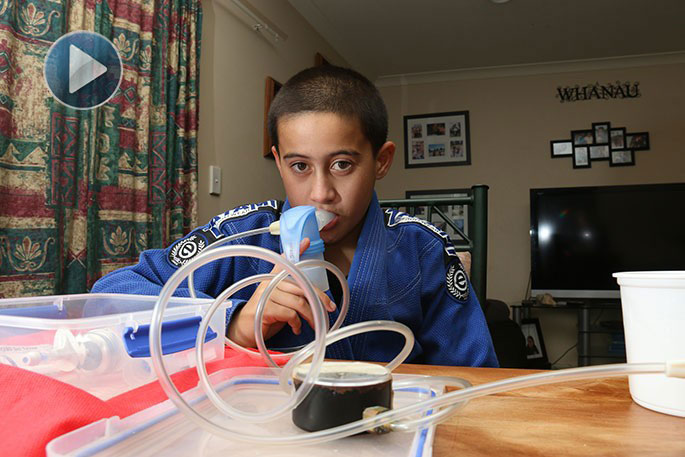 Click the image above to watch the video
Twelve-year-old Te Ariki Berryman has good news and sad news.
A student at Otumoetai Intermediate, and past delivery boy for The Weekend Sun, Te Ariki has also been training and competing for three years in Brazilian Jiu-Jitsu, achieving yellow belt two stripes status.
He was recently selected to represent his local club in the Pan-Pacific Brazilian Jiu-Jitsu competition in Melbourne in October.
He and eight team members from the Underground Brazilian Jiu-Jitsu based at the Te Puna Sports Complex will compete against Jiu-Jitsu clubs from around the world. Brazilian Jiu-Jitsu is a sport known for promoting physical fitness and building character in young people.
The sad news is that Te Ariki's been told this may be his last competition as he has bronchiectasis which will soon require a port being inserted into his chest. After the competition, he'll undergo surgery, and then have to give up the sport.
He was diagnosed with the lung disease two years ago. By the time he turned 11, he'd had multiple infective exacerbations of his bronchiectasis.
"He was misdiagnosed when he was younger," says mum Ange August. "But they didn't find out he had the lung disease until he was 10."
A bronchoscopy in November 2015 at Starship Hospital in Auckland showed pseudomonas was growing in his lungs. IV treatment was needed to combat it.
Previously self-described couch potatoes, Te Ariki's parents Ange August and Riki Berryman realised they needed to provide plenty of fresh air and physical activity to help their boy.
"We were told not to stop taking him swimming, walking, biking because that's all part of his physio. We decided to change our life around. We had to do it for our boy."
Te Ariki is in hospital every three months for two weeks on IV antibiotics.
In 2016 Riki was diagnosed with Type 2 diabetes. He started walking up the 320 Minden stairs in Te Puna once a day, followed by exercycle, burpees and a half-hour workout.
"I cut out potatoes, went from white bread to Vogels, portioned out my food," says Riki.
The family trained together for a half marathon, with Riki and Ange losing 20kgs each. It took Riki six months to overcome the diabetes and he now maintains a healthy lifestyle. He's been taking Te Ariki to Brazilian Jiu-Jitsu training twice a week. He's adjusted to the regular hospital visits, setting up Te Ariki's room and learning how to care for him.
Both Riki and Ange are needed to travel with their son to the competition, to ensure his health is monitored. They're fundraising for the trip, and this week learned that many of their friends have been secretly raising funds too.
"As parents you'll do anything for your children," says Riki. "We'd go to the end of the world for him. We went after the natural ways to help him."
The Pan-Pacific Brazilian Jiu-Jitsu competition runs from October 27-29 at the Melbourne Sports and Aquatics Centre.
More on SunLive...