What's on Today?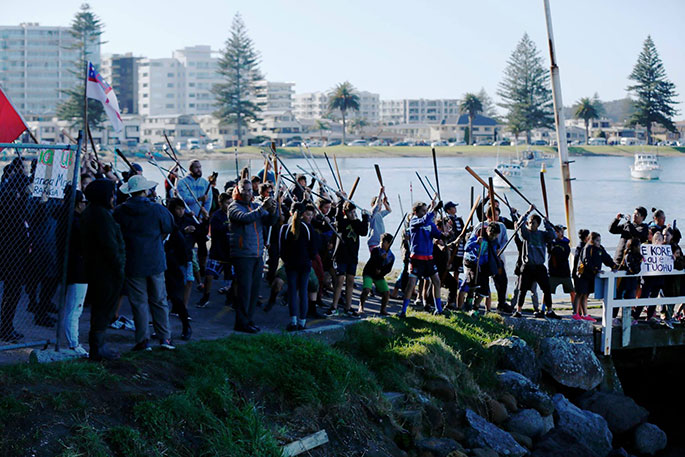 Access to The Mall in Pilot Bay will be restricted today as what is expected to be the largest protest in Pilot Bay gets underway at 7am.
The event is a continuation of a Ngai Te Rangi-led protest at Treaty Minister Chris Finlayson's refusal to change his mind about handing over Tauranga Moana property and political rights to Hauraki iwi.
Access to The Mall from Commons Ave to the Adams Ace roundabout will be restricted from now until about 5pm.
Read more about the protest here.
To see what else is happening in and around Tauranga today, check out SunLive's what's on listings below:
Saturday 17 June
Bay Network Singles Social Club 55+ who wish to make new friends & enjoy club activities, dining, shows, trips, bbq's etc. Mary-Anne 027 207 1690 or 576 9988
Car Boot Sale Papamoa Community Church, 30 Evans Rd 8-11am. $5 a site. Car wash, food & real coffee. Arthur 021 163 7691
Car Boot Sale Greerton Village School, Greerton Road 7.30am - 12pm. Cost $5 per site. Shirley 577 1116 or 0274 146 040
Caravan & Motorhome Owners Interested in joining like minded people & attend weekend rallies? Neal 576 9031
Come Dancing Te Puke Te Puke Scottish Soc monthly dance (mid year Christmas theme), Te Puke War Memorial Hall 7.30pm. Live band, great company & supper. Door charge $7. Subs due. Valerie 573 7093
Computer Lessons Learn in your own time, at your own pace. Tauranga Library has a free course online to meet your needs. Visit one of our libraries to register.
Free Blues Rock Concert Held June 24. Starring the amazing "Skeleton Crew" & Maria Fuller. Refreshments provided St James Church, 70 Pooles Rd, Greerton 2pm. Peter 022 323 9102
Friendship Force International Friendship & Home Hosting exchanges with other clubs worldwide. Barbara 574 5711 or email: regclothier@gmail.com www.thefriendshipforce.org
Ian's Tai Chi Class Saturday mornings at QE Park. Cancelled for the month of June.
Indian Community Meeting With Priyanca Radhakrishnan July 1 at Papamoa Sports Centre, Gordon Spratt Reserve, Parton Rd 6pm. 021 996 373 labour.tauranga@gmail.com
Katikati Lions Moggies Market 2nd Saturday of the month. Crafts, plants, food etc. Memorial Hall Katikati 8-12
Leisure Marching Fun, fitness & friendship. Teams made up of adult members practice this non-competitive activity on various days & times throughout the week. Frances 544 1318 or 021 297 3407
LOL Laughter Wellness Come & laugh away your winter blues. Arataki Community Centre 11-11.45am. Koha. Trish 022 036 6768 email lollaughterwellness@gmail.com
Mamil - Comedy Mark Hadlow in Mamil at Baycourt Addison Theatre 7.30pm. www.baycourt.co.nz
Messianic Meetings Every Sat at Hillier Centre, 31 Gloucester Rd, Mt Maunganui 10am. Seek to unite together in our walk to put truth into action on a daily basis. 544 7424 or 0210 226 3515
Narcotics Anonymous Open Meetings Sat 7.30-8.30pm & every Sun 7-8pm, Hanmer Clinic, 1235 Cameron Rd, Greerton. Mon 7-8pm & Fri 7.30-8.30pm, Hillier Centre. 31 Gloucester Rd, Mt Maunganui. Women's Meeting every Tues 10.30-11.30am Downstairs Hall, Salvation Army Recovery Church, 375 Cameron Rd. 0800 NA TODAY
Peace Vigil Come to support the United Nations Conference to negotiate a Nuclear Weapons Ban. From a Nuclear Free New Zealand to a Nuclear Free World. At the Tidal Steps, The Strand 1.30-2.30pm. 544 0448
Petanque @ Club Mt Maunganui Sat 1pm. Equip available, all levels welcome. Arnold 544 5598
Scandinavian & Nordic Midwinter dinner July 1. Hyggelig shared dinner, candle lights, songs, trivia quiz. Wesley Hall 6-10pm. RSVP Hanne 570 6121
Social Dance July 29, Greerton Hall, 1247 Cameron Rd 7.30pm. BYO drinks & nibbles. Supreme Dance Centre 544 2337 or 027 322 1786. Just come on the night.
Tauranga Indoor Radio Control Car Club race day at Mount Sports Centre. Track set up from 8am, practice starting asap. Come & have a look & pick up a new hobby. www.tirccc.co.nz
Tauranga Meditation Group Intro to meditation classes 1st Tues of month 7-8.30pm. General classes every 2nd & 4th Saturdays of the month. $5 koha. Blind Foundation, 160 17th Ave, Tauranga. (Vehicular access opposite Historic Village)
Tauranga Repertory Theatre The Pink Hammer on until July 1 at 16th Ave Theatre. Tickets available through iTicket: https://www.iticket.co.nz/events/2017/jun/the-pink-hammer
Tauranga Society of Artist 2017 Art Expo including Trustpower/TSA Supreme Award. Community Centre Elizabeth Street West. 9.30-5pm.
The Pink Hammer Live Show, NZ Comedy Drama. Wood work for dummies. Held until 1 July at 16th Ave Theatre. www.16avetheatre.co.nz
Village Radio Museum Community radio broadcasting from Tauranga Historic Village 1368 kHz AM. Music of 1940's - 90's weekends 9am - 5pm, weekdays 10am - 5pm. www.villageradio.co.nz or 571 3710
More on SunLive...