Port company slams 'blockade'.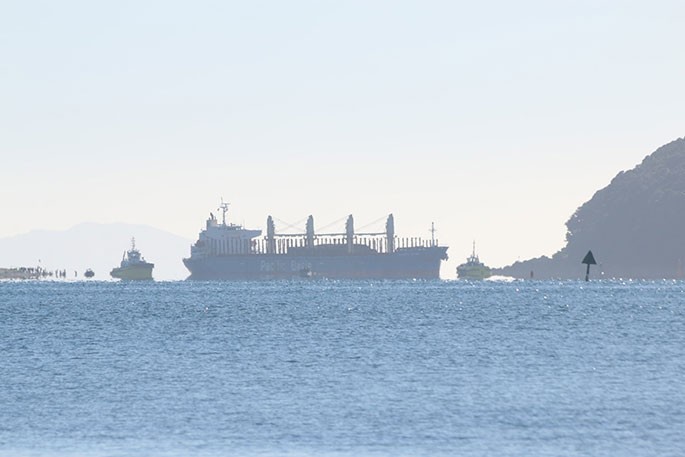 Trying to stop 50,000 tonne ships using small boats is 'silly' say Port of Tauranga CEO Mark Cairns today.
"To me the silliest thing is, we remember five years ago we had the Rena running aground. These ships can't stop," says Mark, commenting on this morning's 'blockade' of the Tauranga harbour entrance.
(Ngai Te Rangi Iwi annouced it was blockading the port today to protest the Crown's decsion to admit Hauraki iwi representatives onto the Tauranga Moana Governance Group).
"If they stop (their engines) guess what happens, they end up on the centre bank. So they're not only putting their own lives at risk, they are risking a hell of an environmental consequence,' says Mark.
"I respect their right to peaceful protest, but to be putting a waka in the channel and thinking they are going to stop a 50,000 tonne vessel is a pretty silly thing to do.
"We're working with police and the harbourmaster, encouraging them to take strong action if they risk their own lives getting in the way of these vessels. But like I said, if they want to have peaceful protests on the side of the channel, that's their right."
If the protesters do succeed in delaying any shipping, Ngai Te Rangi Iwi would be liable to legal action from the ship owners and operators, says Mark.
Charter fees for the big container ships are in the region of $US50,000 a day, plus the ships would incur additional berthage costs – all of which the iwi could be sued for.
"I understand the background to it,' says Mark. "That's a matter they need to be taking to the Minister. And if they feel he's not listening I respect their right to peaceful protest but it's pretty silly to be putting people's lives at risk.'
Police were out in the entrance with the harbourmaster today speaking to the skippers of the vessels and taking photos.
Protester Jack Thatcher says the blockade is not aimed at or intended to impede the port operations. Only two ships were expected to arrive today, with two departures scheduled for tonight.
"There's not much shipping at all, so we are not really impeding anything," says Jack. "The whole thing is not about the port. It's about our making a statement to the Crown in regards to settlements being made that give rights to iwi outside of our area.
"This is just making a statement that we are unhappy. It gives them certain rights to our land, buildings, and enables them to interact within the moana in terms of local authorities.
"We are angry at that so we are making our statement here."
It is understood that Hauraki affiliated iwi are pushing for a seat on the Tauranga Moana Governance Group currently comprising Ngai Te Rangi, Ngati Ranginui, Ngati Pukenga, plus four representatives from the three local authorities and one from the Crown.
More on SunLive...