Maori Kiwifruit Forum an industry first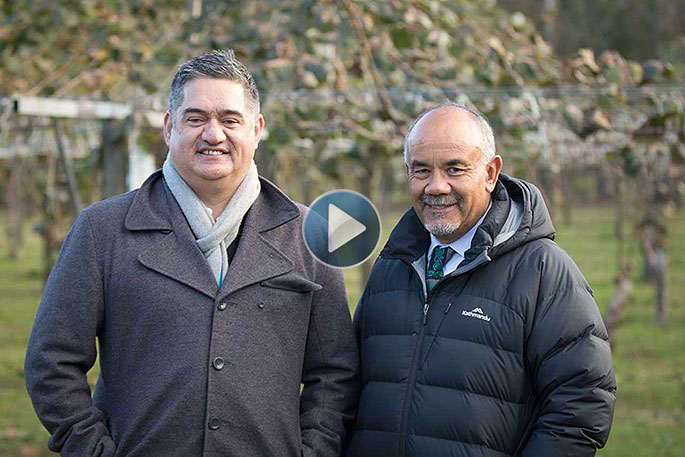 Click the image above to watch the video
The Maori Kiwifruit Growers Forum has been officially launched in Tauranga, representing a first for the kiwifruit industry.
The forum has been created to advocate for the interests of Maori growers in the sector and is a partnership between Maori kiwifruit growers, Te Puni Kokiri and Zespri.
Minister for Maori Development, Hon Te Ururoa Flavell attended the launch yesteday at Te Hua Whenua Orchard in Welcome Bay.
Zespri CEO Lain Jager says Zespri works for all kiwifruit growers to provide the tools and information they need to grow their businesses and Maori growers are an important and growing part of the kiwifruit industry.
"This is about supporting the development of a really strong and cohesive eco-system for Maori growers in the New Zealand kiwifruit industry. Maori have recognised the need for this forum, where specific skills and information sharing will help grow the success of their kiwifruit investment, and we are proud to support them," says Lain.
Lain Jager, CEO Zespri.
Eleven committee members including Tiaki Hunia as Chairman, have been appointed to lead the forum, officially incorporated in March 2017, with Te Puni Kokiri committing funding for the next two years.
Speaking at the launch, Tiaki expected the forum to provide Maori growers with timely and relevant data and information to support their decision-making, and help them see increased net returns from their work.
"Longer term, we hope to lift Maori growers from their current eight percent share of Zespri production up to 20 percent.
"We also want to play a role in providing growers with opportunities to gain education and training to ensure their businesses thrive."
Chief Executive of New Zealand Kiwifruit Growers Incorporated (NZKGI) Nikki Johnson says NZKGI welcomed the newly-appointed Forum.
"As an advocate for all kiwifruit growers in New Zealand, NZKGI is looking forward to working closely with the Maori Kiwifruit Growers Forum in the future to support this important part of our industry."
Forum launch.
Homman Tapsell, Doug Brown (NZKGI), Kiritapu Allan, Nikki Johnson (CEO NZKGI), Haki McRoberts, Lain Jager (CEO Zespri), Minister Flavell, James Wheeler, Marita Rancloud, Amy Porter (Zespri), Tiaka Hunia (Chairman of the Maori Kiwifruit Growers Forum).
More on SunLive...