Elections three months away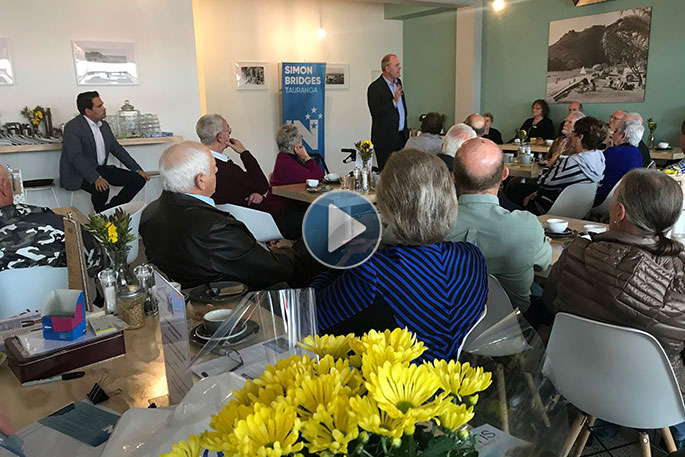 Click the image above to watch the video
As far as Tauranga MP Simon Bridges and Bay of Plenty MP Todd Muller are concerned, the 2017 campaign for election 2017 has well and truly started.
Simon and Todd chatted with about 50 constituents over coffee and muffins at The General Café at Mount Maunganui yesterday, covering a range of interest topics including health, housing and the economy.
"I have a busy week in the electorate this week," says Simon. "Two coffee groups tomorrow and then a lot of door knocking later on in the week. It's fantastic to be gearing up for an election."
As of this weekend the 2017 New Zealand general election is only three months away, scheduled to be held on Saturday September 23 2017 and will determine the membership of the 52nd New Zealand Parliament.
This year, the Electoral Amendment Act 2017 and the Broadcasting (Election Programmes and Election Advertising) Amendment Act 2017 made a number of changes to the conduct of general elections.
Voters no longer have to complete and sign a new enrolment form if they are already enrolled and notify a change of address, for example, through New Zealand Post's mail redirection service.
The Electoral Commission no longer is required to send out nominations and polling place information every voter by post; instead the Commission may use its discretion on how to advertise nominations and polling places.
Polling booths may now use electronic electoral rolls to mark off voters.
Counting of advance votes may now start earlier at 9am (previously 2pm), to take into account the increase in people voting in advance.
Contact information of sitting MPs, such as business cards and signage on out-of-Parliament offices, has been clarified as not constituting election advertising.
Election advertising is now legally prohibited in or near advance polling booths. Election hoardings may now be erected nine weeks before the election (previously two months), so the first day always falls on a Saturday. Parties are no longer allocated free airtime on Radio New Zealand and Television New Zealand to broadcast opening and closing addresses.
On June 23 the regulated election advertising period begins. Election hoardings may be erected, subject to local council rules, on July 22. The Governor General dissolves the 51st Parliament on August 22 and official campaigning, including radio and television advertising begins the following day.
Polling places open from 9am – 7pm on Election Day, September 23 with preliminary results released progressively after 7pm.
More on SunLive...