Manilla to Mangakino – no regrets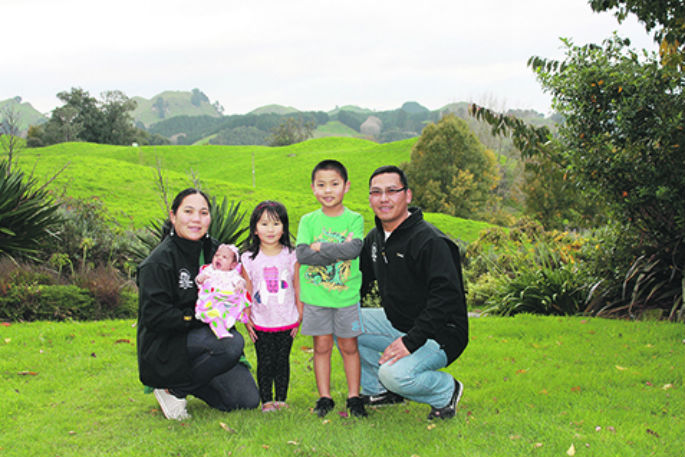 A culture shock probably doesn't adequately describe what Carlos Delos Santos experienced when he moved from Manilla in the Philippines to Mangakino in New Zealand and took up a job relief milking.
"As an 18-year-old I had very little life experience and no idea about dairy farming, but my family had not a lot of money and I needed a job," says Carlos, who 16 years on, and with wife Bernice, was runner-up in the 2017 New Zealand Share Farmers of the Year Awards.
In fact money was so short Carlos borrowed $140 to buy a pushbike to get to work. Not only did he know nothing about dairying, Carlos also had little grasp of English. "I found it very hard to understand the New Zealand accent and the fast way of talking."
Undaunted, Carlos learned to spray cows' teats, progressing to taking off and putting on cups. "I watched the other workers and they were really fast at cupping so I set myself a goal of being as fast as them. I also wanted to impress my bosses as I needed a job."
Impress them he did. Even though there was no current opening for an extra staff member, Ian and Marion Fraser took Carlos on full-time, something for which he is very grateful. "Shortly afterwards one staff member left so we were a team of four again. I stayed on the farm for four years and learned so much from Ian and Marion, especially about managing staff. They are true role models for me – I knew I wanted to be like them."
Nursing career (side head)
By the time Bernice, who was a registered nurse in the Philippines, came to New Zealand in 2007, Carlos had adjusted to farming and taught himself to read, write and converse in English. Now it was Bernice's turn to become immersed in a new culture and occupation.
"She has made a lot of sacrifices in taking up farming, which she knew nothing about – and I would not be where I am today without her hard work and support," says Carlos.
As well as assisting on the farm and in the dairy, Bernice manages the financial and record keeping aspects of their business, and the care of their three children, Cara, born last month, Blair, 4, and Carl, 7.
Currently, the couple, who won the2017 Central Plateau Share Farmer of the Year Award, are 50/50 sharemilking a 300-cow herd on the 140 hectares McPherson Family Trust farm at Ngakuru. Now baby Cara has arrived, they have employed a full-time staff member.
"We've just bought a further 60 cows, which will take us to the maximum for this property and have another year to go on our contract." The medium term goal is to secure a bigger 50/50 sharemilking position of between 450 to 600 cows within one to two years; and their long-term goal is to own their own 250 to 300-cow dairy farm by 2030.
Carlos says as foreign as farming was to him at first, he cannot imagine doing anything else. "There are a lot of positives in dairying. It is a lot of work but it also means I can be involved with raising my kids and I just have to go out the door to be at work, not sit in traffic jams.
"I would encourage any immigrants and young New Zealanders looking for a career to give dairying a go. There is no better place than New Zealand to do that and if you work hard you can progress to a management position quite quickly and on up from there."
Bernice and Carlos, delighted and overwhelmed to have placed so highly in the national dairy awards, are excited about what the future holds for themselves and their children in the industry and country they love.
More on SunLive...