Third in youth Americas Cup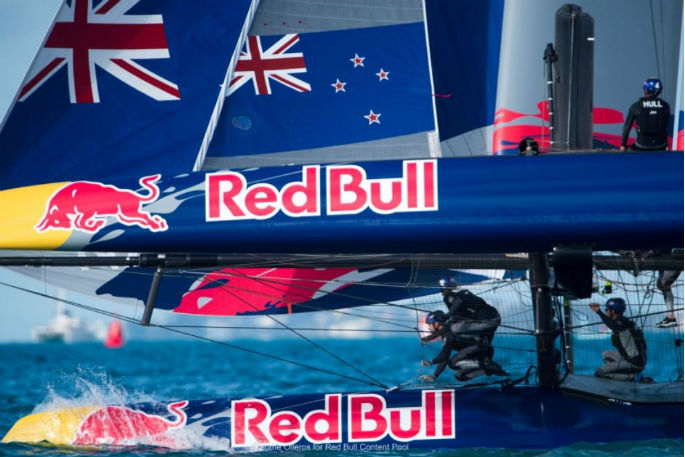 The NZL Sailing Team is third equal on points after the first day of racing at the Youth America's Cup, sailed in painfully light winds at times.
The same day Emirates Team New Zealand clinched their spot in the America's Cup match against Oracle, the youth team began its quest to retain the Red Bull Youth America's Cup.
NZL was fifth in the first race of the day but recovered well to win the second race and then finished third in race three in a dying wind.
With 24 points team NZL is level with Team Bermuda and only one behind Spanish Impulse in second. Land Rover BAR Academy leads on 27 points. The NZL Sailing Team needs to finish in the top four in qualifying to guarantee a place in next week's eight-boat finals.
The day started poorly as the NZL AC45 was caught up with other boats getting off the line in the first race, rounding the first mark last of the six-boat fleet. While they climbed to fourth at one point, there were big gains and losses to be made in the shifty conditions and they finished fifth.
The NZL team completely dominated the second race, foiling on the first reach, and building the lead to claim a morale-boosting win. The Kiwi team also led at the first mark in race three but was caught on the wrong side of the course on the first upwind leg and had to settle for third.
"We had a solid first day in what was light and at times fluky conditions on a tight race course," says tactician Micah Wilkinson. "As a team, it was a confidence-building day. With limited training time in these boats, and a majority of that being in windy conditions, it was the first racing we have done in such light conditions. The team adapted well after the fifth in the first race to bounce back for a race win.
"Tomorrow's conditions look much the same - maybe a slight breeze increase. We are looking to sail more accurately and build on what we learned today. The team got better throughout the day as the communication gelled, so we're looking to solidify that and turn it into more boat speed, better decision making and, hopefully, better results."
Three more races are scheduled tomorrow but light winds are once again forecast in Bermuda.
Results and standings from the first day of qualifying at the Red Bull Youth America's Cup in Bermuda today:
More on SunLive...