Natural Burial Park opening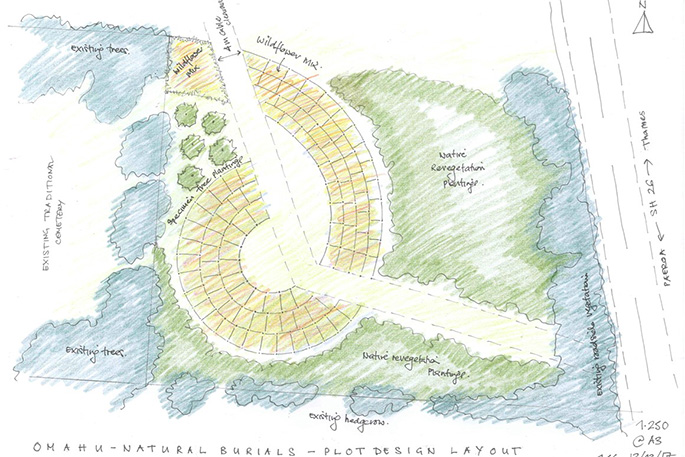 A natural burial area is being designed at the Omahu Cemetery in Thames and will be open by October this year.
The area is the result of a partnership with the Natural Burial Interest Group in Thames, who approached the Thames-Coromandel District Council through submissions to the 2015-2025 Long Term Plan.
"Their input has been very valuable to guide the progression of the area, which has also been made to happen through the support of the Thames Community Board and its chair Diane Connors," says cemeteries coordinator Paula Carr.
"The vision is that the area set aside for natural burials becomes a very special environment with the central idea that everything about the area is as 'natural' as possible without anything introduced that would interfere with, or pollute, the environment."
All the nutrients from the deceased will be gradually absorbed for the benefit of the surrounding soil and plants. It is intended that the area will be transformed into a permanent woodland setting and act as a living memorial to those buried there, be a home for flora and fauna, and become a beautiful space for reflection and remembrance of loved ones.
The Natural Burial Garden ground plot layout work is yet to be completed, however concept plans allow for an initial stage of approximately 110 plots. It is expected the area will be available for interments and plots for purchase from October.
The Thames Natural Burial Group will hold a public meeting in the Grahamstown Hall, on June 17 at 11am.
There are also plans in for a natural burial site at the new Kaimarama Cemetery, Whitianga on SH25 once it is open (www.tcdc.govt.nz/mbcemeteryproject).
Fees and charges for natural burials will fall under our Long Term Plan at that time.
See www.tcdc.govt.nz/Our-Services/Cemeteries for more information.
More on SunLive...