Traffic delays as Fieldays gets underway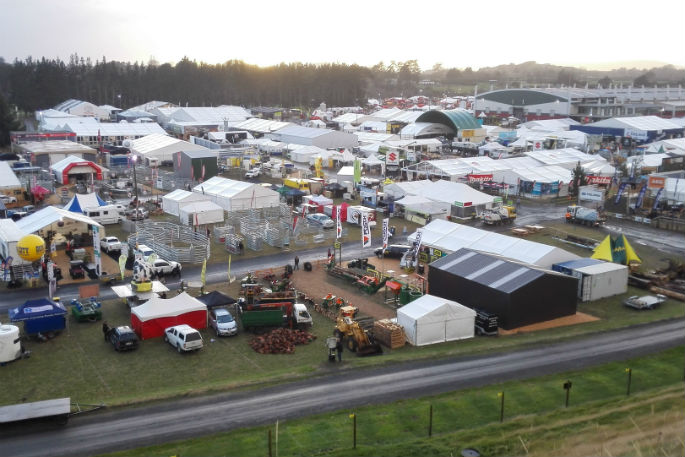 Significant traffic delays are being reported as traffic backs up around Cambridge for the first day of the Nationals Fieldays at Mystery Creek.
Fieldays is its own little town for four days and every year it creates its own traffic jam, says Coast and Country reporter Elaine Fisher from Fieldays this morning.
Coming in from Morrinsville, Elaine was stopped in traffic at Bruntwood. It took her two hours to get to Cambridge from Katikati after departing at 6am.
"There's long streams of traffic even now.
"People are here bright and early. Some of the lower carparks already full up and there are queues of people at the ticket stands. I was hoping might I might be early enough to get one of the lower carparks but they are full already.
"It's not raining but it's about eleven degrees and it's pretty muddy. Most people wearing gumboots sturdy shoes beanies and jackets."
At 8am, there were 300-400 people waiting to go through the gates.
Fieldays are underway this week from early Wednesday morning through to the end of Saturday, and the New Zealand Transport Agency is urging people to plan their journeys before they leave.
"People should allow extra time when driving during Fieldays because of the increase in traffic on the roads and the fact that it's winter," says The NZ Transport Agency highways manager, Karen Boyt.
"In winter, weather and road conditions can change in a relatively short period of time so know before you go and regularly check while travelling if it's safe to do so."
There are a number of ways to check what's happening on the roads, says Karen.
Fieldays dress; Beanies jackets and sturdy footwear.
"The best place to get advice is on our website, our social media or by calling call 0800 4 HIGHWAYS (0800 4444 49) to speak to the call centre team who can provide you with traffic and travel information."
Based on past experience, people should look-out for congestion around Huntly, alongside Lake Karapiro through to the intersection with SH1 and SH29 and on the roads around Mystery Creek and the Hamilton urban area.
There will be a number of worksites underway during Fieldays including the Hamilton section of the Waikato Expressway, the new pedestrian underpass of Cobham Drive and the safety improvement work on SH3 between Ohaupo and Te Awamutu. These projects will allow for two-way traffic to keep people moving as safely as possible.
A roadworks moratorium will also be in place in some parts of Bay of Plenty and Waikato.
Tools for road users.
You can phone 0800 4 HIGHWAYS (0800 4444 49) to speak to the call centre team who can provide you with traffic and travel information.
#fieldays2017. Social media users heading to Fieldays can share their travel experiences by using the hashtag #fieldays2017. Our National Travel Information Service team who will be standing by to answer any queries and let people know about any incidents on the key routes to and from the Fieldays.
Travel Time Information - a network of units which use Bluetooth technology have been placed at Fieldays and key central North Island towns such as Tauranga, Rotorua, Hamilton and Cambridge. The devices use Bluetooth technology to record actual travel times for vehicles between the location of the trackers and Mystery Creek.
People may also want to think about using either the new park and ride bus service at 'The Base' being offered by Fieldays or the bus route from the centre of Hamilton out to Fieldays.
NZTA advises there will be traffic delays around the Bay of Plenty and Waikato with the two Lions Games. The tourists are playing the Maori All Blacks in Rotorua on Saturday night and they are then playing the Chiefs in Hamilton on Tuesday night.
People should expect heavy traffic conditions around the region on those days as people travel to and from the venues.
More on SunLive...