Powerco driving home danger message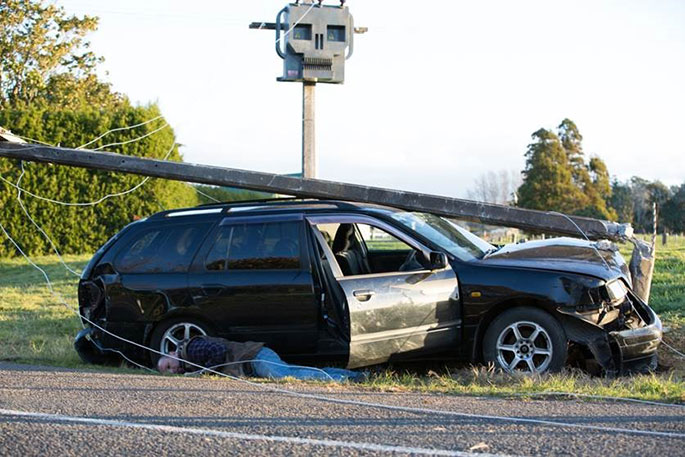 Powerco's latest public safety campaign highlights the potentially deadly outcome of not treating all fallen power lines as live.
Through a hard-hitting video clip, to run at the electricity line company's stand at the Fieldays at Mystery Creek this week (14-17 June) and on Powerco's social media accounts, viewers will witness the result of not keeping clear of fallen lines.
The consequence is 'deadly' after the driver, played by an actor, gets out of his crashed vehicle, draped in downed power lines, and is electrocuted.
Powerco Group Health, Safety, Environment and Quality Manager Julie McAvoy says the company took the safety of the public very seriously and made no apologies for the graphic content of the clip.
"Safety is a top priority for Powerco and we want to make sure people are fully aware of the dangers of lines that have fallen. Power lines can come down for a variety of reasons – in high winds, by trees in storms, if they are hit by high equipment or in motor vehicle accidents.
"It's very important that people remember that downed lines are deadly. Treat all fallen lines as live and that electricity is still flowing through those cables.
"If you see a fallen power line, keep yourself, your children and livestock well away and, once safe, call 111."
A follow-up video clip, also to be played at the field days and on social media, details what the crashed vehicle's driver should have done to stay safe and alive.
"If you crash into a power pole and lines are down, stay in the car. Call 111 so emergency services can contact us and wait till the power is swtiched off and you are instructed by Powerco it is safe to get out of the vehicle."
The video clips can be viewed here and here.
Filming for the videos took place at a rural intersection near New Plymouth in August last year.
The props, a crumpled car and snapped concrete pole, were authentic as both had been involved in a real-life car versus pole crash.
More on SunLive...