One hundred years of service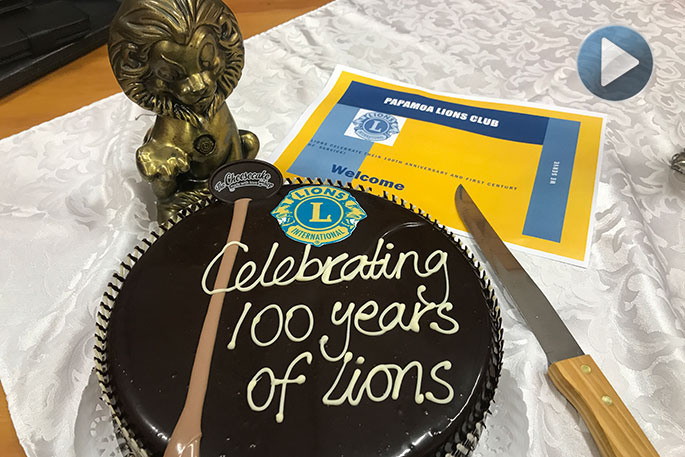 Click the image above to watch the video
A hundred years to the day of making a difference in the world brought members of the Papamoa Lions Club together for a special dinner this week.
They further marked the occasion by inducting two new members into the club.
The dinner was held at the club meeting room in Dickson Road, celebrating 100 years of Lions Club International.
Guest speaker was Jill Best, who recently retired from her librarian role at Tauranga Library, which also has a history dating back 100 years.
"Membership in the Lions Club is a privilege. You join the world's largest and most active service club organisation," says Papamoa Lions Club secretary Kelvin Bennett, welcoming new members Terry Connolly and Lorraine Kinn. They were both sponsored by fellow member Murray Green who is now responsible for orientating them to the club's meetings, code of ethics and projects.
The new members received special Lions name badges marking the 100 year occasion. Anyone else joining the club over the next few months will also receive a similar centennial badge.
Ross and Sue McCowan.
"A hundred years, 1.4 million members worldwide, 46,000 clubs in 200 countries," says Lion member Barry Bean. "And we're all united with one cause - that we serve. It's a great organisation to belong to." Lions are certainly doing a worthy job, helping a lot of people. The Bethlehem Te Puna Lions Club has run a Rise Up Tauranga project during May, collecting over $500,000 of furniture at The Cargo Shed from Tauranga residents to get to Edgecumbe flood victims. A small group of dedicated people can achieve stunning outcomes.
Being a part of a distinguished service history dates back to 1917 when Lions Club International began as a dream of a Chicago insurance man Melvin Jones. In response to social problems created by World War I and rapid industrialization, Melvin invited business clubs from around the USA to a meeting on June 7, 1917, where the Association of Lions Clubs was formed. He believed that local business clubs should expand their horizons from purely business concerns to the betterment of their communities and the world at large.
Jack English.
The new group took the name of one of the groups invited – the Association of Lions Clubs, and a national convention was held in Dallas, Texas in October of that year. There were 36 delegates representing 22 clubs from nine states, a far cry from the number of people who attend Lions conventions these days. This first convention established what the association was to become with a constitution, bylaws and codes of ethics approved.
Since that humble beginning in 1917, Lions members have volunteered their time and talents to meet needs wherever they exist. Lions are especially dedicated to serving the blind and the visually impaired, a commitment made when Helen Keller challenged Lions to become "knights of the blind in the crusade against darkness" during the 1925 International Convention in Ohio. Lions enthusiastically dedicated themselves to what would become a signature cause for their first 100 years of service.
In 1930, Lion George Bonham created a white cane with a wide red band to aid the visually impaired after witnessing a blind man having trouble crossing the street. Since then, the white cane has become a symbol of independence to those who use it to guide their way.
The Detroit Uptown Lions Club established a guide dog training school. Known today as Leader Dogs for the Blind, the school has graduated more than 14,500 guide dogs since 1939 and helped popularize the idea of service dogs. In 1945, Lions assisted in drafting the United Nations Charter, starting a lasting bond with the U.N.
After an international contest among Lions in 1954, an official motto was chosen: "We Serve." The motto, submitted by Lion D. A. Stevenson of Canada is still the foremost goal of each Lions club, and resonates through every project.
Another interesting milestone happened in 1956 when the Detroit Lions Club gave 6-year-old Stevie Wonder a Christmas gift – a drum set.
In 1968, theLions Clubs International Foundation (LCIF) was established. Since its founding, LCIF has given more than US$826 million in grants to support the humanitarian work of Lions.
Papamoa Lions Club President Wayne Keereweer and Club Secretary Kelvin Bennett.
The Lions motto "we serve" perfectly exemplifies the dedication to helping those in need.
"Your membership in the Papamoa Lions Club will carry on this tradition of service for many years to come," says Kelvin to the new members.
The Papamoa Lions Club, in comparison to the international organisation, is still young. Chartered in the 1970's by the Mount Maunganui Lions Club, like their founding fathers, members have been tirelessly serving those in need in Papamoa and further abroad since those early days. One of their current projects is collecting spectacles for Pacific Island communities.
The Papamoa Lions club which has about 40 members, raises funds for the community mostly by running a market. Held on the second and fourth Sundays of each month at the Gordon Spratt Reserve, this market brings in about $40,000 per year which the club redistributes to needs within Papamoa and beyond. The Lions have been running this market for 23 years, charging $5 for a site, and operating a food caravan selling hot dogs, sandwiches and drinks. Five members run the caravan, and another three set the market up with the first Lion arriving on site at 4.30am.
At the centenary dinner, the club approved funds to go to the Tauranga Western Bay of Plenty Annual Special Needs Children Bowling Party.
"Our biggest funds go to youth, we try to do that locally," says Adam McLaughlin. "And to local charities. Some national and some international needs. We send kids to Outward Bound and experiences like that. "
The market held directly after the Edgecumbe flood saw all the funds raised on that Sunday go directly to Edgecumbe.
There's a lot of laughter, warmth and humour at Lions Club meetings and the acknowledgement of milestones made by members. This night was no exception, with two members, Adam McLaughlin and Don Whitworth presented with OBE certificates - 'Over Bloody Eighty'.
"It takes a long time to get one of these," quipped Adam.
After a fascinating talk by Jill Best who has an active retirement seeing thousands of books go into Pacific Island communities, Club president Wayne Keereweer invited past district governors Kelvin Bennett and Alan Kilby to cut the centennial cake.
The night ended with the traditional Tail Twisting. Lorraine Putze is the appointed Tail Twister for the year, and with help from fellow Lion Graeme Mortlock – Morty, she is tasked with fining members for various 'misdemeanours' such as getting their name in a local newspaper, becoming a Gold card member, having a birthday, and having a 'date with a nurse in the public hospital'. Morty roams the room with a ceramic lion jar receiving fines in the form of loose change from member's pockets.
Dave Sullivan's parting thought for the evening brought laughter and applause.
"We've been put here to serve others. But I don't know what the others have been put here for," says Dave.
Don Whitworth and Adam McLaughlin receiving their 'OBE' certificates.
Members of the Papamoa Lions Club on the 100th Anniversary of Lions Club International forming in 1917.
More on SunLive...