Ongoing support for flooded farmers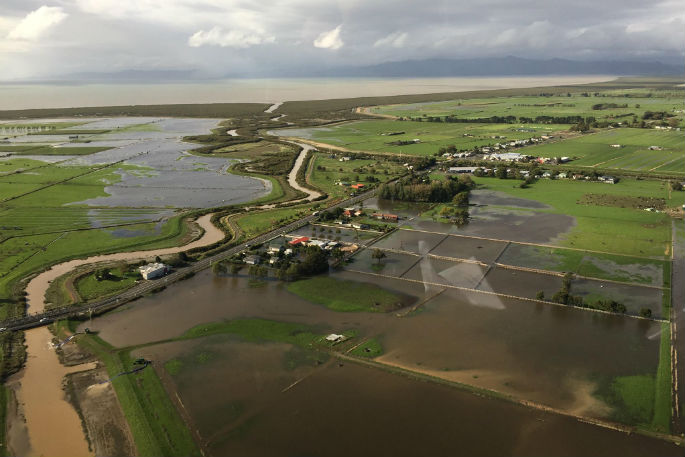 Cyclones Debbie and Cook may be just a distant memory for many, but for flood-affected farmers in Hauraki they're not so easy to forget.
Damaged paddocks, feed shortages, and the onset of winter are all stark reminders of the relentless rain that fell over a matter of days, raising river levels to record heights and breaching stop banks.
It caused mayhem for many, who are now asking questions about potential improvements to the Piako River Flood Scheme managed by Waikato Regional Council.
The scheme is currently in its normal review cycle, but following recent events, WRC is producing a special report into what happened which it says will be available early to mid-July at a series of open days. Technical experts will also be in attendance to listen to concerns and answer questions.
Now in recovery mode, the Waikato Civil Defence Group is working to coordinate agencies that can provide assistance. These include Ministry of Primary Industries and Ministry of Social Development, which are working with Rural Support Trust and Task Force Green to supply crews for clean-up work.
Federated Farmers has also put its hand up to assist farmers in need of feed or grazing. It's been working with its members to source discounted and donated feed across the North Island. Rural Women New Zealand also has $1000 grants available for farmers in need.
At a local level, Hauraki District Council is leading a smaller scale recovery operation to determine the extent of the damage to farms and its impact on the farming community, as well as the wider district.
Assistance has been divided into two recovery sectors, social and rural. The social sector is supported by Thames Valley Civil Defence Welfare Committee, while the rural sector is being led by the Rural Support Trust.
The council is keen to spread the word support is available for those who need it.
"It's great to see all these agencies and communities coming together to support each other and offer help," says acting mayor Toby Adams.
"No one should feel they have to go through this on their own, we know there will be an ongoing recovery period for many, and we urge anyone with any concerns to ask for help."
For rural support call 0800 RURAL HELP (0800 787 254).
For stop bank or other flood-scheme related matters call the Waikato Regional Council on 0800 800 401
For welfare concerns contact Hauraki District Council on 0800 734 834.
More on SunLive...