Therapy found in a keyboard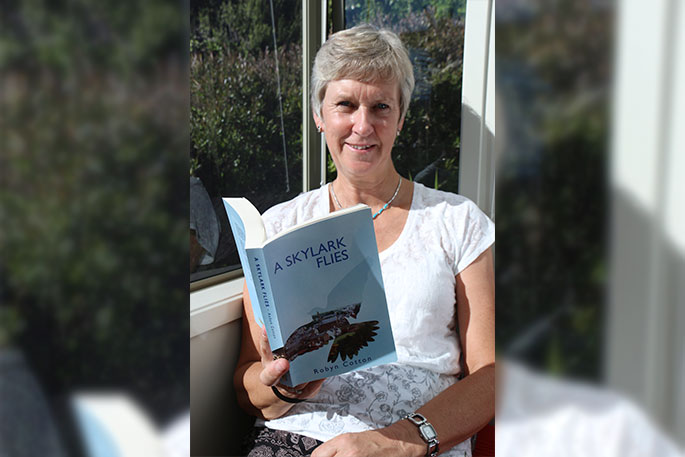 It was a traumatic experience. She was traveling through the United Kingdom in 1981 when she was attacked.
But years later, Welcome Bay's Robyn Cotton has found a way to move on, and through that healing process came a book.
'A Skylark Flies' is Robyn's way of creating closure of her experience, a story primarily about forgiveness, as well as guilt and fear and strategies for coping with trauma.
The novel, set in 1981, follows the journey of Rose – a young Kiwi traveling through the UK on her big OE when she is attacked by Tommy.
But Robyn has an important distinction to make from the start.
"I should point out that Rose is not me," says Robyn. "The book is a fictitious novel. A lot of the characters are totally fictitious – I didn't know who attacked me. He was a stranger and I made his story up.
"But Rose and I share experiences. Back in 1981 when I was on my OE in the UK I was in a Scottish town called Lesmahagow when a stranger attacked me.
"Having experienced that, it was always important to me to find the positives in that and to turn that experience into something positive – and, that was part of the reason for writing the book."
And though the experience helped Robyn process what had happened, it wasn't always easy writing.
"It was difficult at times but it was also very therapeutic. The interesting thing about turning it into a fictitious story is you have control over the outcomes and I found that writing it creatively really empowered me. I had control over the ending and I found there was real freedom in this type of expression."
Robyn has a background in research and development, so it's fair to say creative writing like this didn't come naturally, but she had the will so she found a way.
"It's been a journey. Because I'm new to creative writing I'm learning all the time. The editing took me many times the length of time it took me to actually write the initial draft so that's been the big thing."
Robyn took creative writing courses to help her hone the new craft, and in the process she says she let go of a lot of feelings she had been holding on to.
"I was able to say things to the man that attacked me through this book that I would have liked to say to his face but I never had the opportunity to."
And despite reliving the event again and again through the writing process, Robyn says it didn't make her angry or resentful.
"No, it was quite the reverse. It actually confirmed that I do have closure."
More on SunLive...