Affluent life and times of Alex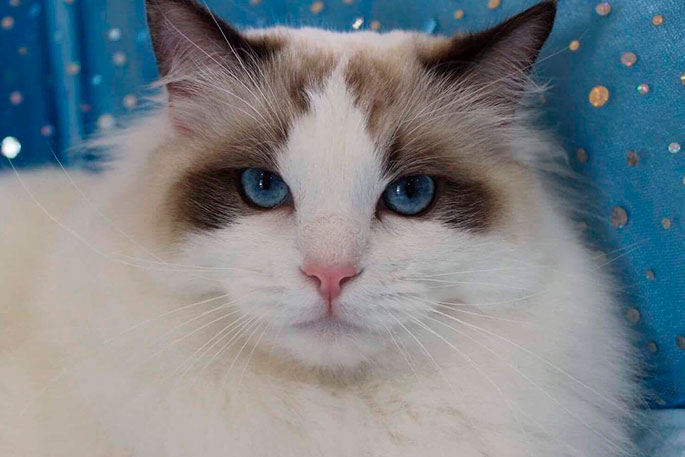 His name is Ranchdolls Alexander – 'Alex' to those close to him.
It's a name that smacks a little of privilege, a bit pommy public school.
But he is privileged, because Ranchdolls Alexander gads about the country – flying to Christchurch last weekend, flitting off to Tauranga this weekend – and all because of his bloodlines. Good ones that can be traced back to a Mrs Baker, a cat named Josephine, and some backyard cross pollination in Riverside, California, in the 1960s.
We will explain later.
First, Ranchdolls – we will get familiar and call him Alex – is $850 worth of pedigree Ragdoll, a 'floppy cat' to some. All limp, soft, and pliable; like the world's oldest toy, the Ragdoll – from which the cat takes its name. The cats have a tendency to happily collapse into the arms of anyone who wants to pick it up and cuddle it.
That $850 is at the conservative end of the market – they can cost $1,500. "Well worth it, beautiful cats," says breeder Sheree Russell.
Ragdolls are all docile and calm, and eminently loveable. "My fur baby," is how Sheree describes Alex, and all 18 of her Ragdolls – 14 breeding cats, three pets, and one show pony. That's Alex – with the film star good looks, the cold, piercing, Paul Newman blue eyes.
He's headed to Tauranga this weekend for the Geyserland Cat Club all breeds show at the Greerton Hall in Cameron Road on Sunday.
"Alex is an amazing cat, from my very first litter. I am so proud of him." He was the New Zealand Cat Fancier's Club neuter/spay kitten of the year last year.
This would all be enough to make old 'Ginge' caterwaul in canine heaven. He'd used up all his nine lives, and borrowed a few from other less adventurous cats. Ginge would have hissed and spat at the very notion of Alex's pampering.
You met Ginge last week. He was our family cat – excessively whiffy, scarred, freckled, dribbling old Manx. He thought he was put on earth just to fight and procreate, between meals and sleeps. Ginge and Alex were from opposite sides of the track.
Alex is Fendalton and Ginge Sydenham. Alex Remuera and Ginge East Tamaki. Alex Bethlehem and Ginge very, very Merivale.
"Ragdolls are absolutely beautiful cats," says Sheree. As a child she saw one on TV, always wanted one, and when she turned 38 she got one. The following year she got another, and two years ago started breeding ragdolls. "Extremely placid, wonderful nature, and loving."
They hark back to Josephine of Riverside in California – she was of a Persian/Angora lineage, and she had popped out several litters to unknown Burmese-like cats. Ann Baker, who lived over the back fence, noticed their striking colouration, size, and placid affectionate demeanour. She bought several of the kittens, and the rest is all whiskers and fluff. Nowadays, all Ragdolls can be traced back to Mrs Baker's cats.
This week in Otorohonga, Alex will be having a bath and a blow dry. Not that he needs one. He's not allowed outside during show season in case he gets his white fluffy feet dirty. "Then he will get his little toenatils trimmed," says Sheree. "It doesn't faze him, he loves it."
Ginge never had his nails clipped. But he didn't have toenails, he had claws which were registered offensive weapons. They got broke and bloodied, but never manicured.
Alex will be snacking on Royal Cannin Ragdoll biscuits – special kai for special Ragdoll cats, good for Alex's coat and teeth. A 12 kilo bag for $100 every couple of weeks. And Alex gets his special fresh meat from a special dealer in Levin – neither minced nor chunky, but just right.
Ginge would go into spontaneous drooling if he got the fatty scraps off the skirt steak before it went in the slow cooker. Did I tell you he always had drops of spittle on the end of his whiskers that could have been found offensive? And he didn't purr, he rattled. And that's when the dribble rose to a torrent. Ginge defied everything that could be pleasantly acceptable about a cat.
When Alex went to Christchurch for the big show last weekend, it cost $1,100. "Well worth every cent," says Sheree. "An amazing show, and my furbaby did wonderfully in the big line up." A first, a third, a fourth, and a ninth in the national ring.
Sheree's husband is a kind of cat show widower. On show weekend, he has to stay home and look after the other cats and kittens. "He doesn't mind, he has grown to love them."
The Geyserland Cat Club all breeds show is on today at the Greerton Hall on Cameron Road. The show will be open to the public from 12.30pm to approximately 3.30pm.
More on SunLive...