Cargo shed cleared out today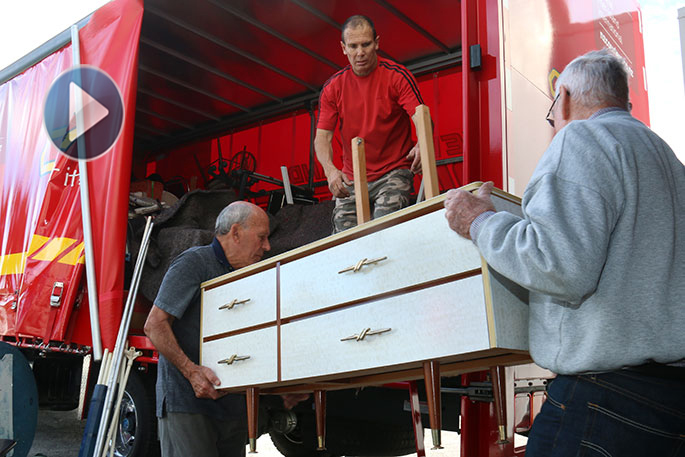 Click the image above to watch the video
Today the last truckloads of furniture donated to the Edgecumbe flood victims are being cleared from the Dive Crescent cargo shed and driven by volunteers to Whakatane.
Project co-ordinator with Bethlehem/Te Puna Lions Ian Calvert says the furniture is being displayed in a factory space for selection.
"They have sorted it all out into categories and they have got a registration of all the people who have got their houses ruined and they are slowly coming in getting a selection of what they need and it's all registered and it's slowly going out," says Ian.
Once the flood victims select from the donated furniture whiteware and other household goods it goes into storage in containers until the houses are ready for re-occupation.
"They've now pretty well cleaned out all the houses,' says Ian. They have stripped the houses of wall board and they are just letting them dry out now, ready for re-wall boarding, and refurbishing after that.
"So it will probably be another six months before people can be getting back into it."
More than 200 Edgecumbe houses are affected by the floodwaters that poured through the town when a floodwall failed on April 6. Ian says 16 Edgecumbe houses have to be demolished.
"Then there's quite a lot of them are still waiting for assessors to come in."
The estimated hundreds of thousands of dollars with of donated lounge suites, tables, lots and lots of linen; blankets, duvets, pillows, kitchen gear have been trucked east by a group of truck drivers donating time and transport.
"You name it. We've had TVs, washing machines, dryers, stoves, microwaves…."
He says there's been 15 truckloads ferried down East by a collection of trucks including three 21 tonners from Mainfreight and NZ Couriers, plus a number of 18 tonners.
Modern Office has taken eight load, A2B transport took two loads and John Brown took another big load as well, says Ian.
"The feedback that we have had from them has been tremendous. They are all so really grateful for what we have donated down there and they just can't praise us enough.
"It has been a great response, and we would like to thank all those people of Tauranga who have donated to such a cause, because these guys down in Edgecumbe – Oh, the absolute mess that it is down there."
More than 500 Tauranga households donated good quality furniture, and some people went and bought new items like heaters to donate.
Rise Up Tauranga launched the project at the start of May with the assistance of Tauranga City council and Otamataha Trust who made the Cargo Shed in Dive Crescent available for temporary storage.
The cargo shed before...
And after.
More on SunLive...