Medal chance at world cup final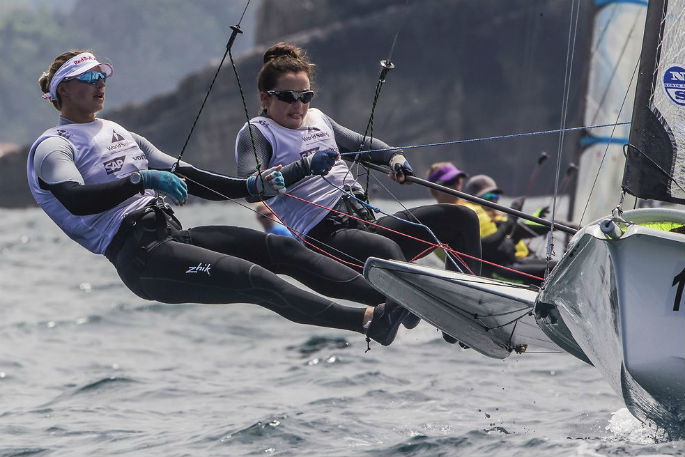 The class of Alex Maloney and Tauranga sailor Molly Meech came to the fore in racing at the World Cup final in Santander overnight, leaving the pair with an outside chance of claiming a medal at the worlds 49erFX in Spain.
A medal prospect looked unlikely after they finished 13th out of 15 on the first day. The Olympic 49erFX silver medallists were loaded with a 50 percent penalty on their first three races after their four year old boat was declared underweight when measured before the regatta.
Alex and Molly collected two seconds and a first in the three races overnight to climb to fifth. To win bronze they need everything to go their way in tonight's double-points medal race.
"I'm sure we would be looking really good in the standings if we didn't have those added points but we can't look back," says Alex. "Both Molly and I accepted it pretty well and realised it was our mistake.
"It seems silly in hindsight but we genuinely felt our boat was up to weight. There's not much we can do about it other than learn from it and make sure it never happens again because it's not the best of feelings and at bigger events we won't get away with it."
The pair have finished in the top three in six of the 12 races so far this week – including their last five - and won two. They had high hopes of winning the regatta in what is their first major event since last year's Rio Olympics, and first since teaming up again with Nathan Handley as coach.
The gold medal is between Olympic champions Martine Grael and Kahena Kunze from Brazil (35 points) and the British crew of Charlotte Dobson and Saskia Tidey (38 points).
"We have a slim chance of winning a bronze medal, which is a pretty good feeling considering the beginning of the week," says Alex. "We probably have to win the race and hope everything aligns with other teams around us.
"We thought we sailed really well today. We tried to keep it a lot simpler and tried to have fun."
The 49er pair of Josh Porebski and Tauranga sailor Trent Rippey posted three solid results with two fifths and a ninth to remain in eighth overall in the 16-boat fleet.
The gold will come down to a tussle between two British crews and another from Poland, with the trio within six points of each other.
"We will look to attack the medal race tomorrow and make the most of the points on offer," says Josh. said. "We will try to make up as much ground as we can.
"It has been an up and down regatta. We just need to ease up on a few mistakes here and there but, other than that, we are getting what we want out of the racing which is good race experience coming into the big regattas of the year."
Fellow Kiwi Sam Bullock is eighth in the IKA Formula Kite open division.
Results and standings after day 4 of the World Cup final in Santander, Spain, overnight (NZT):
49erFX (15 boats)
1st: Martine Soffiatti Grael and Kahena Kunze (BRA) 8 1 5 2 1 (16) UFD 2 2 2 3 8 1 - 35 points
2nd: Charlotte Dobson and Saskia Tidey (GBR) 1 (11) 9 3 2 1 1 1 6 4 2 8 - 38 points
3rd: Lili Sebesi and Albane Dubois (FRA) 5 2 7 4 5 3 4 4 1 (14) 5 7 - 47 points
5th: Alex Maloney and Molly Meech (NZL) (14.5) DPI 12.5 DPI 11.5 DPI 1 7 5 13 3 3 2 1 2 - 61 points
49er (16 boats)
1st: James Peters and Fynn Sterritt (GBR) (14) 2 3 2 7 4 2 3 2 6 6 4 - 41 points
2nd: Lukasz Przybytek and Pawel Kolodzinski (POL) 1 4 5 5 6 2 3 (7) 5 (91) 1 3 - 42 points
3rd: Dylan Fletcher-Scott and Stuart Bithell (GBR) (12) 9 4.6 RDG 3 1 1 1 4 6 11 4 2 - 46.6 points
8th: Josh Porebski and Trent Rippey (NZL) 3 5 (17) UFD 11 4 7 13 13 9 5 5 10 - 85 points
IKA Formula Kite (18)
8th: Sam Bullock (NZL) 6 4 1 6 4 4 3 3 4 4 (10) RET 3 8 (10) DNF (10) DNC (10) DNC 10 DNC 10 DNC 9 5 6 5 4 5 - 104 points
More on SunLive...