Sailors overcoming the handicap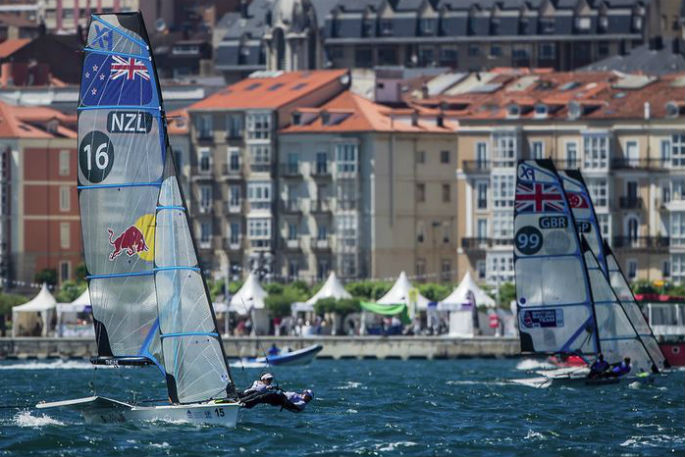 Alex Maloney and Tauranga sailor Molly Meech are making progress up the leaderboard at the World Cup final in Santander Spain, overnight after putting aside the frustration of yesterday.
The Olympic silver medallists sat in the unfamiliar position of 13th in the 15-boat 49erFX fleet after day one. Their boat was deemed to be underweight when measured before competition started, meaning they received a 50 percent penalty to their day one scores.
Alex and Molly won the first race of day two and backed it up with a seventh and fifth to sit on 37 points and eighth overall at the invitation-only regatta. Leaders, Charlotte Dobson and Saskia Tidey of Great Britain have 16 points, but the top six teams are all within six points of each other.
The Kiwi pair are competing in their first major regatta since last year's Rio Olympics and are keen to continue to climb the points ladder.
"We have a few more days of fleet racing so there are plenty of races to go and we are really looking forward to getting back out there tomorrow," says Molly.
"We started off with a race win [today] which was a really cool way to start the day. Unfortunately, we had a few up and down races [after that] and a few things didn't go our way."
The skiff fleets competed close to shore in 8-12 knots, with a strong tide making conditions tricky. They will race on the outer course tonight and the New Zealand crews will be looking forward to contending with bigger waves.
The 49er crew of Josh Porebski and Trent Rippey had issues of their own, breaking a traveller in their first race of the day, but banked a couple of good scores to keep them in contention.
"In our first race, we were going alright and then had a breakage with our traveller," Porebski said. "One side broke so that slowed us down on that tack."
The pair, who on current form are New Zealand's top 49er crew with Olympic champions Peter Burling and Blair Tuke involved in the America's Cup, are seventh overall, 13 points behind leaders Lukasz Przybytek and Pawel Kolodzinski of Poland.
"We want to have a shot at the win at the end of the week," Rippey said. "We have been more consistent and putting some good scores on the board and minimising mistakes and keeping the big scores off the scoreboard."
New Zealand results and standings after day 2 of the World Cup final in Santander, Spain, overnight (NZT):
49er (16 boats)
1st: Lukasz Przybytek and Pawel Kolodzinski (POL) 1 4 5 5 (6) 2 - 17 points
2nd: James Peters and Fynn Sterritt (GBR) (14) 2 3 2 7 4 - 18 points
3rd: Dylan Fletcher-Scott and Stuart Bithell (GBR) (12) 9 5.2 RDG 3 1 1 - 19.2 points
7th: Josh Porebski and Trent Rippey (NZL) 3 5 (17) UFD 11 4 7 - 30 points
49erFX (15 boats)
1st: Charlotte Dobson and Saskia Tidey (GBR) 1 (11) 9 3 2 1 - 16 points
2nd: Martine Soffiatti Grael and Kahena Kunze (BRA) 8 1 5 2 1 (16) UFD - 17 points
3rd: Lili Sebesi and Albane Dubois (FRA) 5 2 (7) 4 5 3 - 19 points
8th: Alex Maloney and Molly Meech (NZL) (14.5) DPI 12.5 DPI 11.5 DPI 1 7 5 - 37 points
More on SunLive...