Car smashes into back of bus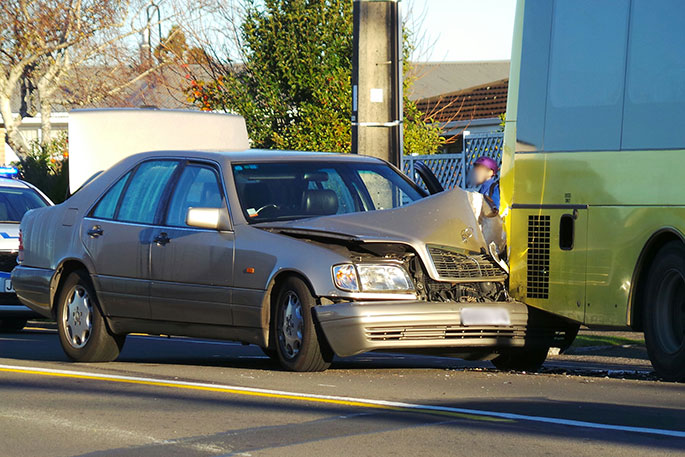 UPDATED 9.12AM: Sunstrike is the suspected cause of a crash earlier this morning, in which a car collided with a stationary bus.
The incident occurred on Levers Road just after 8am, leaving passengers stranded.
Civilians took up the task of traffic management, after motorists were reduced to a single lane in order to skirt the accident.
The driver of the Bayhopper bus says he was parked at the bus stop, waiting for a passenger to board, when the car drove into him from behind.
"She [the driver] said it was sunstrike. She had rolled down her window because she couldn't see anything."
He says they would only have been crawling along, due to the poor visibility. But the collision was enough to crumple the car's bonnet – and to put the bus out action.
"The impact has affected the electronics," says the bus driver. "It's just shut itself off. Unless the mechanics can get it moving, we'll have to wait for a big tow truck to take it away."
One passenger, who was on the bus at the time, says it felt like 'a big jolt' when the car hit.
Fortunately, nobody appeared to be injured in the crash.
EARLIER:
Motorists are being advised to expect delays in Matua following a crash between a bus and car.
Police are at the scene of the crash near the Levers and Hall roads inersection.
A reporter at the scene says there appears to be no injuries and the car in blocking one of the lanes of the road.
Police are working to get the scene cleared as soon as possible.
More on SunLive...