New cycleway section nearly open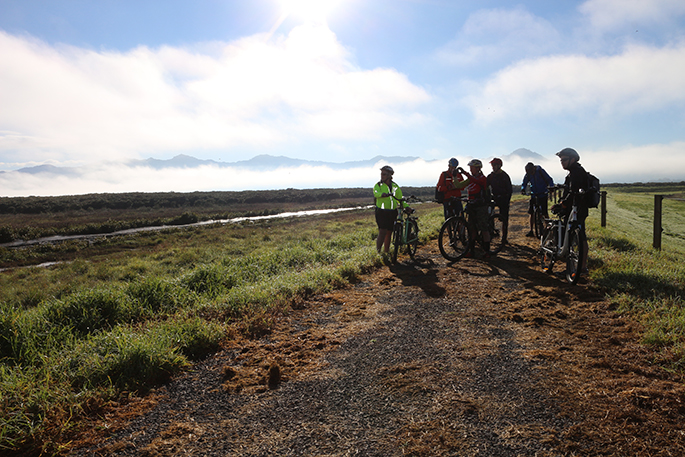 Keen cyclists will soon have a new trail to explore in the Thames area.
The Pukorokoro/Miranda to Thames section of the Hauraki Rail Trail is almost complete, with the trail's general manager Diane Drummond one of the first to take a test ride.
She says the 'stunning' section, which runs along stop banks on the shore of the Firth of Thames, will officially be opened before Labour weekend.
"What brought the whole ride to life for me was the birdlife. I knew this section was going to be a real asset to the existing trail, but I was genuinely surprised by just how beautiful it is through there," she says.
The new section of the Hauraki Rail Trail will be officially inspected in June to make sure it is up to the standard required for Great Ride status.
This means that, once approved, it will join the rest of the Hauraki Rail Trail as one of only 22 Great Rides included in the New Zealand Cycle Trail network.
In the process of rolling out a whole new website and marketing material as part of a fresh new start for the Hauraki Rail Trail Charitable Trust, Diane says there's a huge opportunity for communities to tell their stories and create business opportunities alongside the trail.
"The trail is accessible and convenient for so many people. The cruise market docks at both Tauranga and Auckland. The country's biggest airport is within two hour's drive. It's hardly surprising its easy grade and great scenery has become a hit with families and social cyclists. I'm a perfect example of how you don't have to be a fitness fanatic to ride it," she says.
A One Stop Shop information evening for the Pukorokoro/Miranda to Thames section of the Hauraki Rail Trail, and separate day workshop for entrepreneurs and business people anywhere along it, will be held in the district next week.
Email diane@haurakirailtrail.co.nz for more information.
More on SunLive...