ATM masquerades as phone box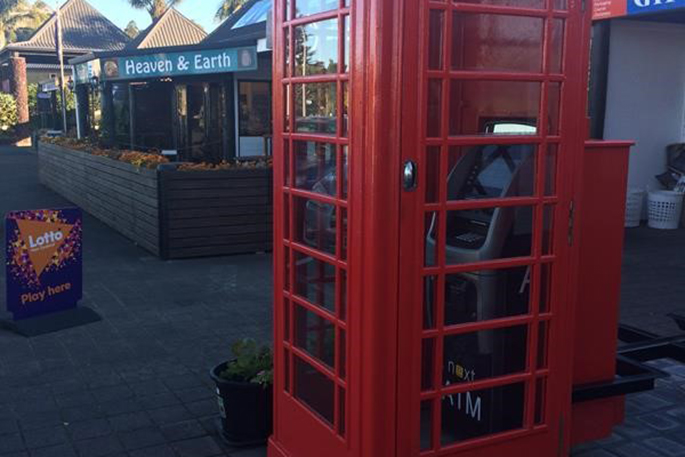 A bright red 1938 telephone box has been transformed into a money machine and installed in Tairua's main street this week in what is likely to be the most unusual ATM in the country.
The telephone box-money machine is the brainchild of Gavin Morris, who retired eight years ago and returned to Tairua after several years spent sailing.
Gavin is the new landlord of several commercial buildings in the town and has a knack for thinking outside the square.
"We just needed something different," he says. "The town needed another ATM because the current ones are always seeming to run out of money at certain times of the year, and the whole concept was to come up with something that attracts tourists.
"There's nothing that we can find in the world that has been done like this. We've seen them in the UK with the back cut totally, but nothing which is standalone."
Thames-Coromandel Mayor Sandra Goudie is backing the idea.
"We applaud Gavin for his entrepreneurial spirit and thinking outside of the box to give Tairua this point of difference."
The telephone box is an original one from 1938 and the only major change that will be made is to alter the exterior sign from telephone to money ATM. It will take cards for most major banks and fees to apply as per the case with other ATM machines.
It has been situated at the site of a former sign and seat on the left hand side of the road as you enter Tairua from the south, positioned close to the Tairua Information Centre and Tairua Stationary shop.
A replacement seat will be re-established and paving completing the job.
More on SunLive...