Bus petition presented to council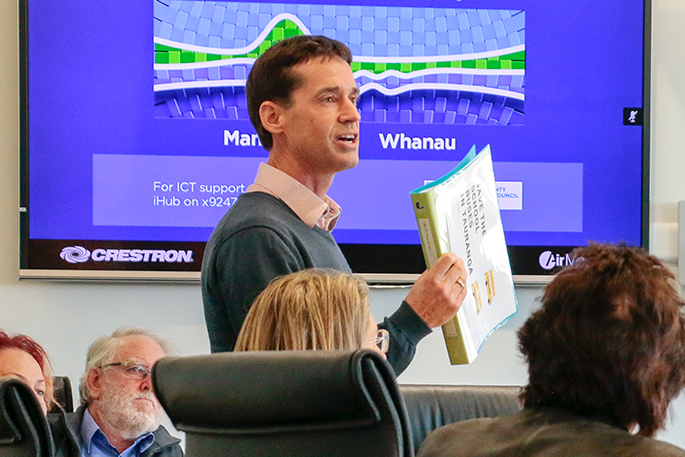 "There's never been a public outcry like this in Tauranga."
That's the message Lee-Ann Taylor passed on to regional councillors at today's informal meeting, during which a petition against proposed bus changes was presented.
She's just one of the concerned parents who turned out to voice their opposition at the Bay of Plenty Regional Council's First Avenue offices.
The regional council is proposing to cut the number of school bus services in the city from 45 to 11 by moving students onto the Bayhopper network and adding additional urban network buses to provide peak capacity.
Today's informal meeting was run by public transport committee chairman Lyall Thurston, whose committee has been overseeing the proposed changes. He received the petition, with 1785 signatures, from Welcome Bay resident Michael Pugh, who spoke for many parents when he talked of the concerns they had around their children's safety.
He also questioned how reliable public buses would be in getting kids to school on time, as well as the difficulties some children might have in making multiple bus changes.
"Most people are saying they will just drive their kids," says the father of four. "We all know what Tauranga traffic is like now – imagine an extra thousand cars on the road in the mornings and afternoons."
From left: Regional councillor Lyall Thurston receives the petition from Michael Pugh, Karen McCabe, and Lee-Ann Taylor. Photo: Ryan Wood.
Aquinas College Parent Teacher Association chairperson Lee-Ann spoke next, reiterating many of Michael's points. But she also brought up how other commuters would be impacted.
"Our kids' safety is paramount," she says. "But we are also concerned about other commuters, particularly the elderly, who will also be affected. Many elderly can be afraid of large groups of kids, for instance."
Karen McCabe, who started a petition against the proposed changes on change.org a couple of weeks ago, was also at the meeting.
"My son will potentially have to catch three buses if these changes go through," she says. "If I have to drive him instead, it will mean an extra hour of travel time for me in the mornings, easily."
She says people are overwhelmingly concerned about the safety issues around the proposal.
Her opinion is that the status quo is the only solution.
It remains to be seen, however, what the council's final decision will be. After the petition was presented, the public were excluded while regional councillors held their own discussion on the matter.
Lyall says the petition will be tabled at the next public transport committee meeting on June 23, before it is presented to councillors on June 29.
Public submissions on the matter have been extended by a week, due to the high volume of submitters.
More on SunLive...