Rob Hick's model for Tauranga Museum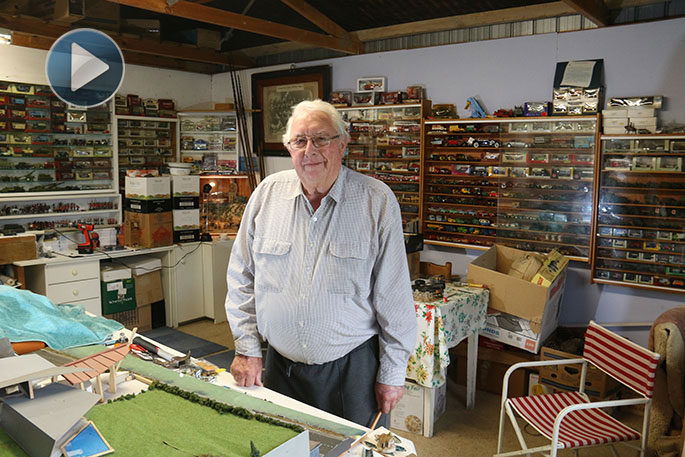 Click the image above to watch the video
The roller door goes up on Rob Hicks' green shed and an unbelievable sight greets us.
Among the model planes, boats, uniforms, cars, and tanks, is Rob's model for a Tauranga Historical Precinct.
"This is what I thought you might want to look at," says Rob, a long-time strong supporter of a museum for Tauranga.
"On Cliff Rd, extending out over the railway line."
The existing rose gardens are to the left of his museum model, which is built over the carpark of the old bowling club.
There are two layers of car parking, with space under the museum itself for workshops to prepare displays for the exhibitions.
The ground level would be the entrance lobby and café. Overlooking the water is a large restaurant from the basement to ground level.
Rob Hicks with his Tauranga Historical Precinct model.
"I woke up about 4am, 10 or 15 years ago," says Rob. "There'd been talk about not having a museum of Tauranga, so I got up and did a sketch and made it like the shape of a waka.
"Then I took it to an architect and asked if there was anyone who could draw it up and make it presentable for taking to council.
"We finished up with plans but we needed a model, so I started building it. Two architectural students came out to my shed, sat down and spent about a week off-and-on drawing it up and cutting it out."
Rob approached Fraser Tweedie of New Zealand Rail to obtain approval for the concept of the railway line going through a tunnel under the museum.
He even thought of an area for buses to pull in for pre-paid tours. And there's a special entrance and area for acknowledging Maori taonga (treasures).
Tucked away on a shelf nearby is another model, this time capturing some of the Battle of Gallipoli.
His larger diorama of the Battle of Gate Pa was on public display at the Tauranga Airport and was part of the Battle of Gate Pa exhibition in the Greerton Hall in 2014.
It included 150 miniature lead soldiers and is now being stored in The Elms Mission House garage. His green shed also houses a miniature waka and a sailing boat.
Inside his home there are more collections – an upright grand piano more than 100-years-old, furniture that belonged to his grandparents, paintings and prints, a telescope, a Dacre Smyth painting of Gallipoli and a Dinky Toy collection in his office.
In the lounge, a fascinating model of New York Harbour with boats on it sits tucked away behind the couch.
There's warships, The Queen Elizabeth I, tugboats and lifeguard boats, with tiny exquisite detail.
Military models in Rob's red shed.
"Another chap collected this and I bought it off him. I don't think you can buy them now," says Rob, who bought the harbour diorama about 10 years ago.
The proceeds were used by the seller, Ivan Lindsey, to produce a 500-page book, titled 'In the heavens above' about New Zealand airmen being trained in Canada.
"I just love miniature things, and all the detail," says Rob. "I've never told my wife what it cost me."
In another corner is a display of Chatham Island shells collected from the stomachs of codfish.
"I've never seen orange and purple shells."
Rob is concerned all his collections will one day be dispersed and gone.
"This is partly why we built the big red shed so memorabilia can go into it.
"But I've filled that already."
The red shed has a collection of military models.
"My first ever Dinky Toy was purchased about 1947 when the war had finished. I would have been six or seven-years-old. I chose an American army Jeep."
No Dinky Toy models were made between 1941 and 1945. The French Meccano factory was occupied by the Germans, and the British factory was on war work. One of the first new models released after the war were U.S. military Jeeps.
Some of Rob's Dinky Toy collection.
"I had ridden in a Jeep in the middle of the war when the Americans arrived here and my aunt was in the Red Cross Transport Corp."
With the recent talks resuming about a museum for Tauranga, Rob is feeling inspired once again.
His concept would link up The Elms, which represents the period from 1830-1880, with the Monmouth Redoubt, the Tauranga Mission Cemetery and the Brain Watkins House which is about a 15 minute walk away and represents the period from the 1890s to 1960s. It would tell the story of Tauranga, and also be the repository of Maori artefacts held in storage in Auckland and Tauranga. The Tangata Whenua Collective also wholeheartedly supports the Cliff Rd location.
Rob submitted his design more than 10 years ago.
"The word 'museum' became a dirty word because several councillors lost their seats going back two elections ago," says Rob. "And so I changed the name to Tauranga Historical Precinct. I think it's the right time to start building a museum. Money has been promised by central government. The Auckland Museum was only completed 80 years after the first sod was turned."
More on SunLive...