Man mows lawns while tornado swirls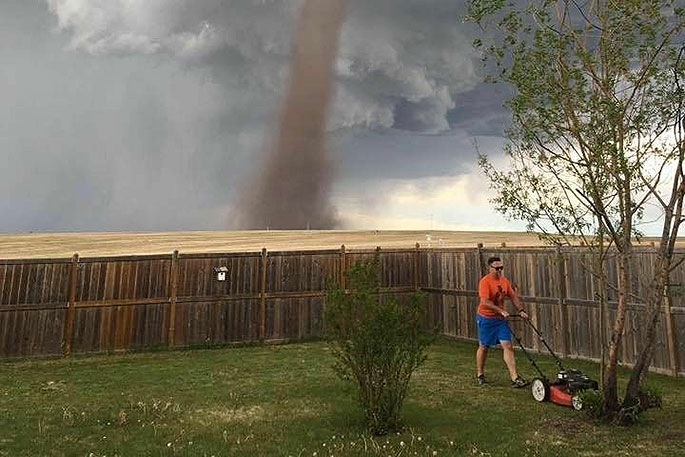 Images of a Canadian man mowing his lawns have gone viral after his wife shared the photos on Facebook.
Behind him in the photos is a massive swirling tornado.
The twister touched down on June 3 in Three Hills, Alberta, Canada. No one was hurt and it caused minimal property damage.
The photos of Theunis Wessels though, have caused a viral social media storm.
"My husband started mowing the lawn and I went for a nap," says Cecilia Wessels.
"In the middle of my nap I heard my daughter screaming at him. She was 'mommy, mommy please wake up there's a thing in the sky. It looks like a tornado and daddy doesn't want to come inside.'"
Cecilia looked out the window with her nine-year-old daughter and saw her husband, and this completely 'normal scene'.
"We said to him 'are you coming inside?' and he said 'no the wind turned and we're fine' and he just kept going."
Theunis works as a nutritionist in Airdrie. His recreational pursuits include mountain climbing, competing in triathalons, and bungee jumping, which may help explain why he wasn't too perturbed by a twister going by behind him.
Theunis says the tornado was actually much further away than it appears in the photo, and that it was moving away from them.
"I was keeping an eye on it," he says.
The couple are originally from South Africa where tornadoes are uncommon.
Theunis became familiar with the storms after attending a seminar hosted in Saskatchewan by a storm chaser, Tornado Hunters' Greg Johnson.
Cecilia says her husband was totally relaxed about it because he had attended the seminar.
"I took the picture to show my mum and dad in South Africa and now everyone is like, 'Why is your husband mowing the lawn?'
"He did look, made a calculated decision, finished the lawn and it looks beautiful."
Cecilia posted the photo to Facebook with the caption 'My beast mowing the lawn with a breeze in his hair.'
More on SunLive...