From stray to purr-fection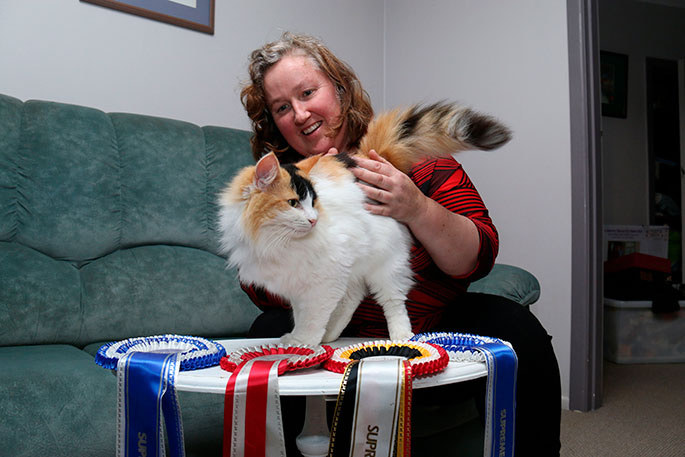 Bella is the pauper, who by a blessing, became the princess.
She is of dubious parentage. Her parents are unknown. She is the product of some spontaneous union behind a gooseberry bush in the backyard one night.
"But a very pretty girl," says Megan Harland. Bella lives up to her name – Bella from the Italian and Latin for beautiful. "She's also very confident, loves attention, happy to go to shows and loves being fawned over."
Bella's a cat. And she's living evidence that for every moggy that begins life as a stray, is abused or abandoned there's another that lucks it. Bella lucked it.
"She was in a litter of SPCA kittens in Animates," says Megan, Bella's mum. "My sister saw her and went wow, look at you, aren't you beautiful. She fell in love with Bella." That will be $150 thank you, ka-ching. And the unloved, unwanted, destitute moggy was in a cat cage and off to a new privileged existence in Gate Pa.
Designer cat food, pampering and preening, sharing a warm double bed by night and doing the show circuit. Suddenly the 'moggy' is a longhair white tortoiseshell domestic and successful multiple award-winning showgirl. She has landed on all four, white fluffy feet – the ones they have to wash before she goes to the show.
So moggy by name but not by definition or nature. A moggy doesn't have pedigree. Bella ticks that box but moggies are by dictionary definition 'otherwise unremarkable". Bella is not unremarkable. She has grace and looks and bearing and lives graciously. Not at all like our old family moggy called 'Ginge.'
Now he was a dead set moggy. An alley cat, he lacked breeding, style, manners – anything that might endear a cat to someone. He even smelled vile, as though another cat had marked its territory on him. He was a ginger Manx with a short stub of a tail. He had torn ears, freckled nose and lips and he dribbled like a drain.
No warm bed – he would be shoved out the back door before lights out. He would brace his broad shoulders, wriggle his butt and go looking for love. And a fight. And a month later he would come home all scrawny and scarred and looking for a different kind of love. Food love. But Ginge never experienced flash food out of can. Or a vacuum pack. It was always scrag end.
He lived on scraps and take outs – like the night there was a primal scream at the backdoor. There was Ginge with a long tail hanging from one side of his mouth and a rat head from the other. He had brought dinner home with him.
Bella on the other hand likes and gets Temptations – treats for cats, under two calories per treat and 'beautiful catnip flavours' which assists tartar control. Ginge didn't have tartar – he flossed regularly by burying his canines in furry hides during his regular territory scraps. Bella also likes Dine – delicate tuna flakes, steamed ocean fish and tender chicken. Bella lives well.
Bella will be at the Geyserland Cat Club All Breeds show at the Greerton Town Hall on Sunday, June 11. And that's the wonderful thing about the show – it is very egalitarian, very inclusive.
There will be pedigrees like Maine Coons that are worth $1200 at the show. And Scottish Folds perhaps. Flash expensive cats. "But we are never made to feel like poor sisters or second-class citizens," says Megan. "Our cats are just as good as anyone else's. Just as beautiful, just as groomed and just as loved."
And that's why Ginge, after a bath, serious grooming and behaviour modifications, would be welcome at the Geyserland Cat Club's All Breeds Show. If he's not out tomming around. "The domestic section or the companion section for him," suggests Megan. Even Jake would be welcome. He's our colleague's three-legged tabby – a dog in a cat's body – he likes it outdoors, fends for himself except for that one ear he can't scratch.
Bella can be an outdoors girl too. And a hunter. "She brought home a little lizard today. And she enjoys rarking up the neighbour's chooks." She is a completely well-adjusted, normal garden variety moggy. But a beautiful pampered one. Would she like to meet Ginge or Jake, there could be a remake of 'Lady and the Tramp' in it.
Bella will be at the Geyserland Cat Club's All Breeds Show at the Greerton Hall on Sunday, June 11 from 12.30-3.30pm.
More on SunLive...